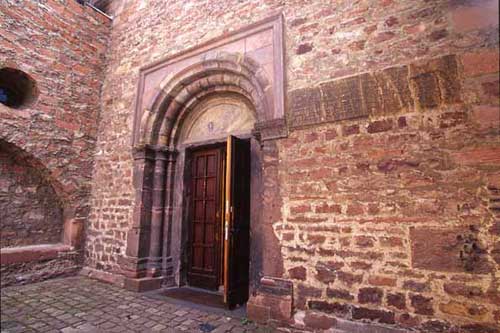 Ever since the ban on minarets in Switzerland was announced, I've been mulling over the similarities and differences between that and the restrictions on synagogue construction that was prevalent in pre-World War II Europe. I seem to remember, for instance, that synagogues in Germany, until the
Neue Syangoge
in the mid-1800s, were required to be built behind a plain facade and away from the street. Even after the Neue Synagogue was built, it was met with significant criticism (much of it anti-Semitic in tone) that has echoes in the rhetoric used about the minarets today.
So, I was very pleased to see an article in JTA by
Ruth Ellen Gruber
, author and journalist, that addressed this very issue. While she doesn't see exact parallels, the recent ban certainly recalls those earlier restrictions and considers it to be a true cause for concern.
"I know it's a very long way from a ban on new minarets to the much more drastic measures that led to this state of affairs. But as my brother Sam put it, "Restricting specific types of religious or cultural expression -- especially when such restrictions are deliberate exceptions to existing building, zoning, health and safety codes -- is discriminatory." It is, he said, "an act of denigration of cultural custom and, by extension, of the people who cherish, or the religion that requires, those very customs."